Natural Pet Care Products can be obtained from a beautiful Australian company that puts the health of its customers before the dollar.
Minerals for Pets
Animals obtain their mineral nutrition through the food they eat. In an idea world our pets would roam free hunting and eating roots and grasses, getting minerals for the ground they eat from and in the water they drink.
In reality many pets are locked up in small back yards or houses and fed chlorinated water and processed foods, including human leftover foods, which are vastly different from their natural diet.
Minerals in animals are needed to help your pet mature, maintain energy and help prevent health problems. Your pet's mineral requirements will vary depending on their weight, are, breed and available food intake.
Paradise Nutrient Pet Minerals
These are a concentrated, broad spectrum mineral formula, derived from a selection of sea minerals and sea plants, minerals from pristine deposits of age old healing plants and herbs, dolomite, bentonite, diatomite, MSM sulphur, kelp (with trace iodine), coral minerals and plant derived minerals and nutrients.
The combined ingredients in this product include a broad spectrum of over 74+ plant minerals. A broad spectrum of minerals
may assist with the replacement of many of the minerals that your pet may be lacking in their diet.
Plant minerals derived from an organic or natural source are by far more available to animals than synthetic or mineral salts, as plant derived minerals have already been digested through a process called photosynthesis.
Paradise Premium Pet Minerals
Can be sprinkled on your pets food, wet or dry, to boost or top up the nutrients of any pet food. They contain over 90 essential nutrients needed to maintain sustainable health and nutrition.
Ingredients
74+ plant derived minerals
Kangaroo powder
Green lipped mussel
Shark cartilage
Aloe Vera
Kelp
Moringa
Silica
MSM sulphur
You can choose between a 200g tub or convenient individual serve sachets.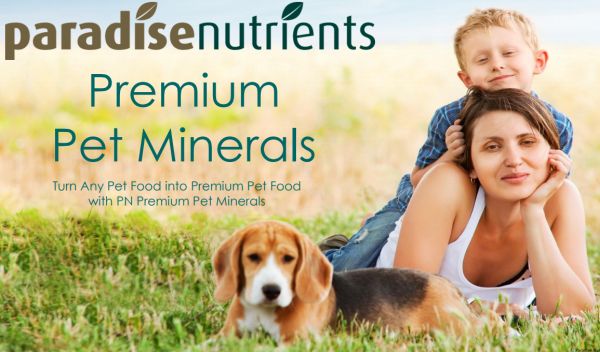 As a Nutritional Counsellor, I'm always on the lookout for foods that are healthy and provide the nutrition we so vitally required. The same goes for our pets too… we cannot expect to have healthy pets if they are living on junk food, anymore than we can be healthy on nutrient-deficient foods.
To see the entire product range please go to Paradise Nutrients.
This beautiful company has products that care not only for us, but for stock, poultry, our gardens etc. etc. Natural Pet Care Products from Paradise Nutrients provide the nutrition required for our pets to live long and healthy lives.
As a Nutritional Counsellor and Dietary Consultant, I only promote products that I consider to be of great benefit to my clients. Please be aware that I will receive a small commission on any products you may purchase.