Would you like to achieve better health through normal eating?
I'm sure you would… that is, if you knew exactly what "normal eating" was!  I want to share with you about making easy healthy lifestyle changes, one step (or change) at a time. So many times we try to change everything in one go, and then we fail.  We wonder why?  Is it because I'm not good enough?  The questions start coming… ugh!
If we are looking to be healthier, or maybe to lose weight, how about we tackle one area at a time.  When that area is set in place and becomes part of us, we tackle another.  Would that be easier? Don't you think it makes a lot more sense in the long run?
Mouthful Matters is about improving your diet (that's what you eat every day) and seeing your immune system greatly improved; greater energy; generally healthier and the weight falling off on its own accord.  Every mouthful counts!
Here I share with you what I have done on my journey towards having a top immune system, normal weight and my desire to be bouncing with health.
I needed to lose a little weight (too much sitting in front of a computer caught up with me) so I had to make a decision.   To that end I decided that I wouldn't focus on losing weight, but on building superior health.  At the end of the day, that is what I wanted the most.  The benefit of thinking and focusing in this new direction, is that I don't have to give any of my thought-time into losing weight.  It happens naturally.
So where would I begin my easy healthy lifestyle changes?
There had to be a starting place because remember I wasn't going to do it all at once… so I decided to look first at what I was drinking in a day, or should I say, wasn't drinking in a day!  The amount of water I was drinking and… what other yummy drinks could I add per day that would achieve my goal and stop me from desiring unhealthy, nutrient deficient drink.
Variety… is that the spice of life?  Everywhere I look I see variety.  When God was creating the world variety seemed to be at the forefront of his mind!  For example… just think about the leaves on the trees… are there any two the same?  Not only from tree to tree, but on the same tree.  It's hard to find two the same… exactly the same.
Variety
So on my quest for superior health, I knew variety was going to play a large part.  My body needs lots of different foods and drinks every day and I don't mean the same ones each and every day… that would be boring.  No, there is SO MUCH for us to choose from, so no two days need ever be the same.
As I concentrated more on building my health through easy healthy lifestyle changes, and less on the amount I weighed, the better I felt about everything.  It gave me freedom!  You see, I knew that my weight would normalize itself and was excited about that.  For me it was not hard to make easy healthy lifestyle changes when all I was doing was adding in extra yummy foods and drinks!  And do you know what?  It meant I lost the desire for nutrient-deficient foods that didn't do me good.
I see it everywhere – wherever I look I see diets telling us all the things we can no longer eat.  I mean, it's enough to make you want to give up long before you start!  If there is anything I'd like to get through to you it's the fact that we need to make it fun.
Workshop
Wherever you are in the world you can take part in my 'Common Sense Weight Management' & 'Wellness Solutions' Courses".   The information has been broken down into smaller pieces so you can work through it one at a time, at your own pace. 
It needs to be fun!
I have found that what's been working for me is to make one change at a time, and get that "locked down" then begin another. In general I find it's what I add to my daily diet, rather than what I take away.  As I add more good things the bad things are automatically dispensed with. Rather cool actually.  What about you?  Would you share your personal experiences… your successes and your not so good times.  Be real and that way we can all learn!
OK, as you look through these pages I hope you pick up the benefits of making easy healthy lifestyle changes, one at a time.  I believe there is a natural answer for every condition, although the medical profession would like us to think otherwise.  How wonderful to receive better health through normal eating.
Warm regards,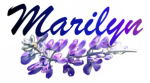 Marilyn Williams
Certified Nutrition & Weight Management Consultant