My husband and I had just been for one of our walks when we passed a sign to a "spray free, pick your own strawberries".  Oh, this sounded interesting… I like the "spray free" part!  As we were talking about it we come up with the question, "How are strawberries good for you?"
I believe that when a question is asked is the time it's best to try to find out the answer, so we said to one another… "Let's go in and see what they have to tell us."
Now, as we are all aware, strawberry flavouring is one of the top three all time favourite flavours.  Chocolate, Caramel and Strawberry… not necessarily in that order.  All other flavours fall in behind there somewhere.
We are also aware that the flavours in milkshakes etc are not made from real fruit… they are concocted in a lab and made to taste pretty much like the real thing, usually using ingredients that are anything but the real thing. And of-course, this doesn't mean that the flavouring is good for us, in fact, in most cases it's not.
Click here to see a list of chemicals that typically make up the strawberry flavouring found in Burger King strawberry milk shakes.
But while most companies are using strawberry flavour made in the lab from almost 50 different chemicals, you can opt for the natural variety and at the same time receive their multitude of health benefits…
Why do companies do this?  Because it's cheaper of-course, and it's available all year round.  They can also make it taste the same, every time.
Have you ever tasted a milkshake made with a real banana?  It's ten billion times nicer than a fake banana milkshake.  But today we're looking at strawberries.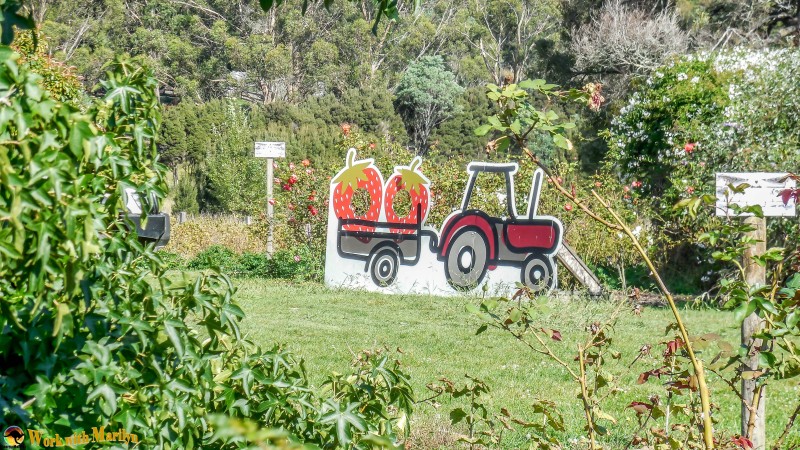 Hillwood Berry Farm, on the eastern shores of the Tamar River Estuary in Tasmania, Australia felt welcoming from the moment we entered.  It's a family run business which goes out of its way to encourage families to come and enjoy their premises, along with the ability to pick your own strawberries.  It felt good.
Normally I won't buy strawberries because unless they have been grown organically they are on the Dirty Dozen Plus list of products that are best not to be consumed.  Usually I'll only eat what I grow, so I was keen to check them out.
As we approached the door, we took the time to smell some of the large tumble of roses growing along the path.  Oh, was good!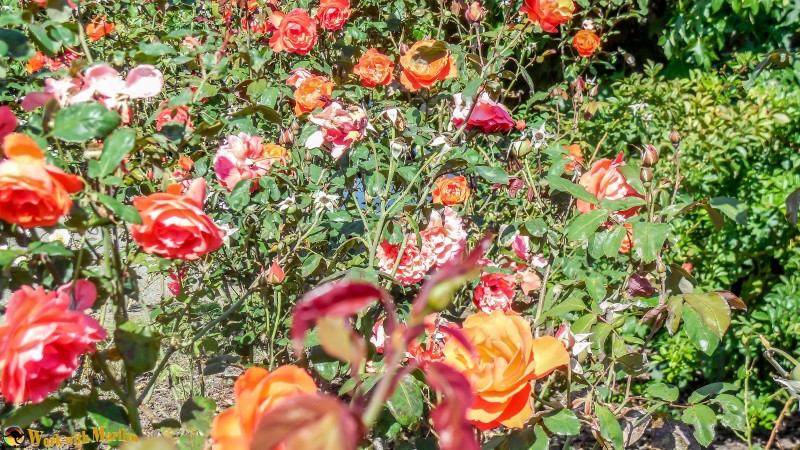 We were given a tray and told there was no minimum… we could pick as many as we wanted to.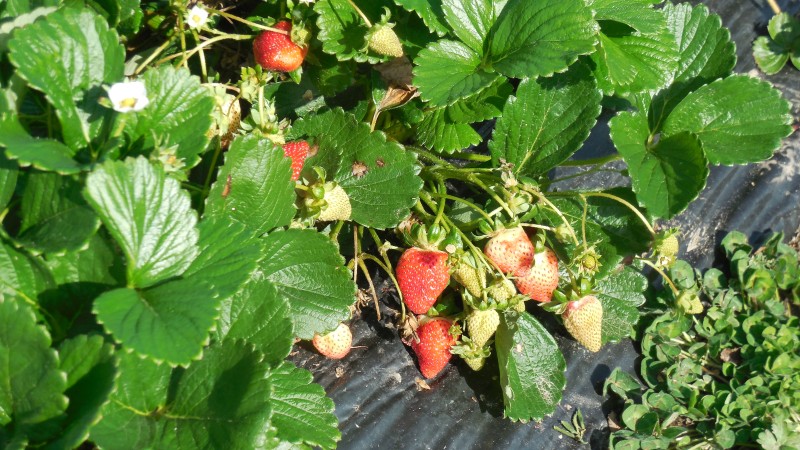 Out in the patch we found it lovely and green.  The season was coming to an end but there were still plenty there for us to pick.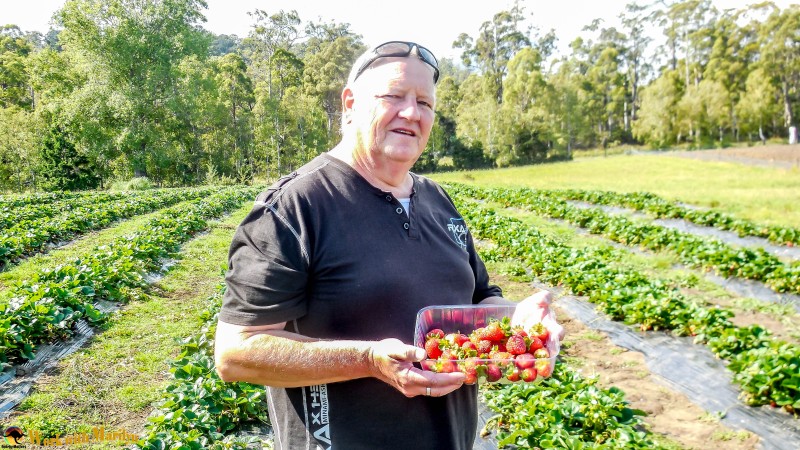 It didn't take us long before our tray began to fill. Here's my husband dreaming of strawberries and cream!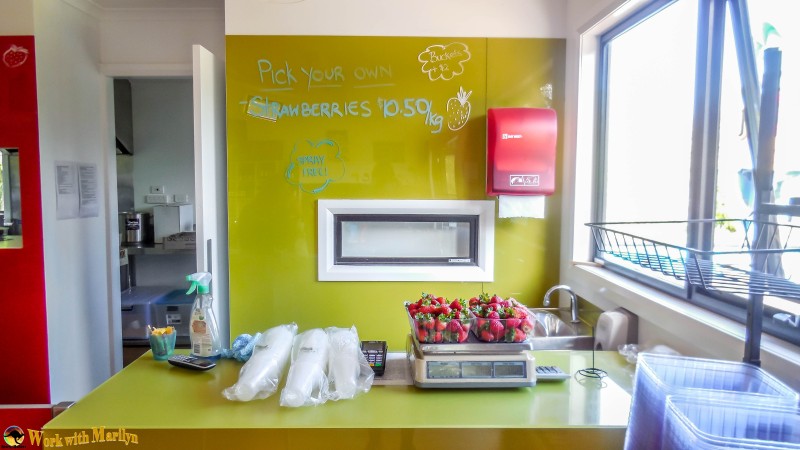 Back inside the lady weighed them… yummo they looked good!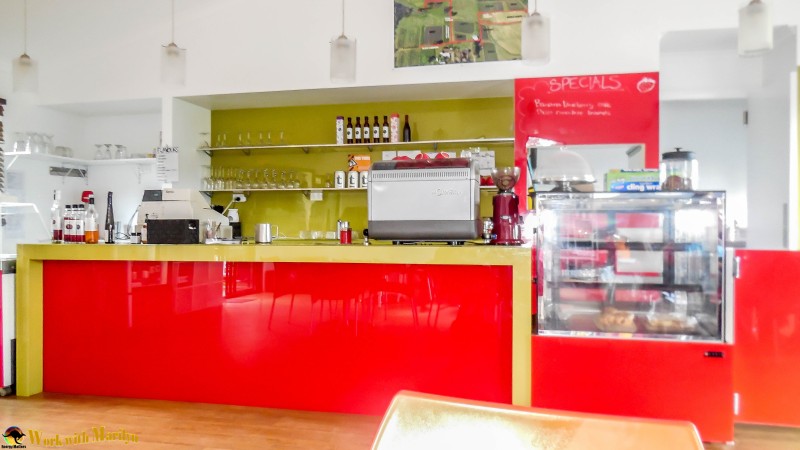 I loved the fresh red and green inside which I'm guessing was to resemble a strawberry.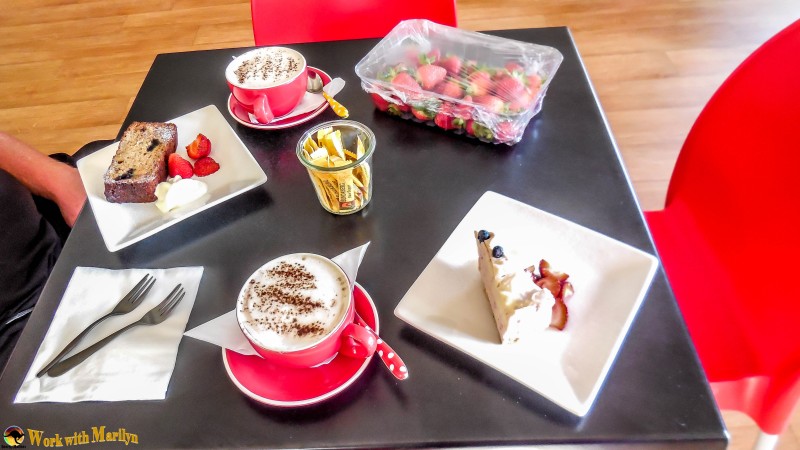 To give us time to ask some questions we indulged in a coffee, and a little taste of their fresh, home-made paleo goodies.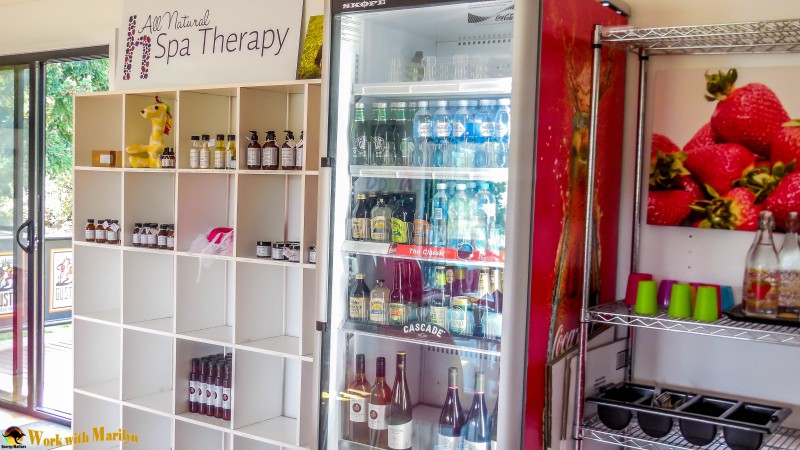 You could see that the season was coming to an end as they didn't have a lot of other products available.  Home-made natural organic essential oils, skin-care, hair care, as well as a whole variety of wines and vinegars.
When I questioned them on the "spray-free" she advised they bought the property 6 years ago with the intention of growing organic berries, but to become certified organic it's a seven year process, with a whole lot of hoops to jump through.  They were still aiming for that but never-the-less, it was great to be able to buy strawberries that receive no sprays of any kind.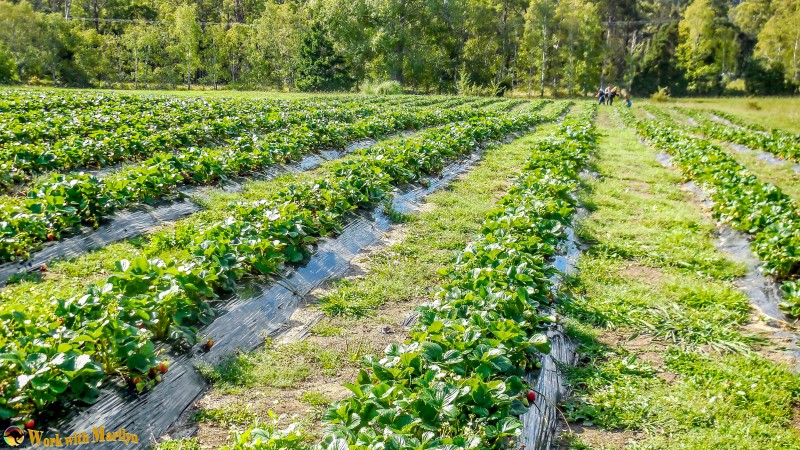 As you can see from this photo, the strawberries are all planted in slits within black plastic.  I'm guessing this is to keep the weeds down within the plants but there were clearly weeds between each row.  I was thinking about that and thought maybe they run a lawnmower over it as the rows were definitely wide enough.  I didn't think to ask her but will next time.
Another thought I had… what stops the birds from coming and feasting out on all those beautiful strawberries?  I'm curious about that one.
The lady who served us was definitely right up there when it came to information regarding their strawberries!  She was able to tell us what they contained and what health benefits we could expect.
So, how are strawberries good for you…
Strawberries contain:
Anti-inflammatory antioxidants

Anti-aging flavonoid antioxidants
Because of their ability to fight free radial damage, and together with a long list of vitamins and minerals they potentially help:
Eye health

Lower risk of cancer

Lower risk of cardiovascular disease

Neurological health

Skin Protection

Lower levels of inflammation

Decrease in arthritis pain
All this sounds really good to me.
Click here if you want to know the list of vitamins and minerals a strawberry contains.
So when we ask the question why are strawberries healthy, we can be assured there are many health benefits from regularly consuming these delightful and very yummy berries. It made me want to eat them often.
Are strawberries good for you?  Be warned…
Most strawberries you buy come with a mouthful of pesticides! Because of the nature of strawberries, being so soft-skinned and delicate, it's almost impossible to wash the sprays off them.  Just because you can't see it, doesn't mean it's not there.
If you want strawberries that actually taste good and are not hard and tasteless, you have to be able to eat them very soon after they've been picked.  They need to ripen on the vine for that wonderful, delectable taste… and for the wonderful health benefits they are able to provide.  The taste leaves the strawberry before they begin to show signs of deterioration.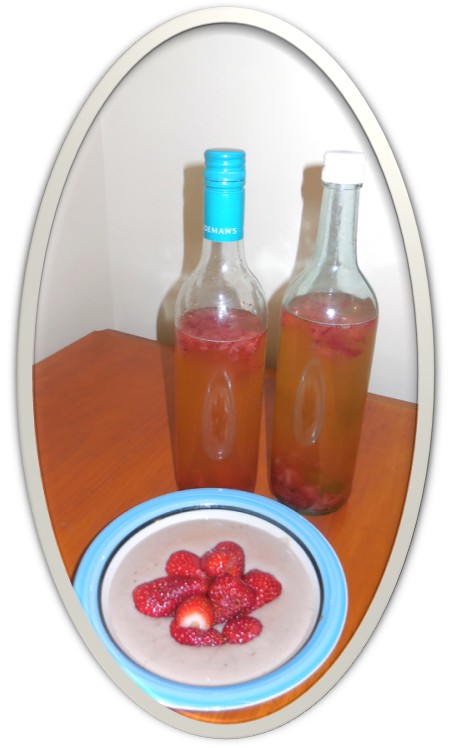 So What Did I Do With Them?
After taking them home and giving them a good rinse in clean water, one of the first things I did was taste them.  Oh yeah!  They tasted really nice!
Now as I make up a brew of Water Kefir every second day, I had one that was ready for a second brewing.  This is when you add some fruit in to flavour the Kefir.  So I mashed up some strawberries and added them into the two bottles I had ready.  When you "second ferment" your Water Kefir, you leave it sit out in room temperature for a couple of days before refrigerating it.
Having tasted the Strawberry Kefir since I can tell you it was really very nice.  I'll talk more about Water Kefir another time.
The next thing I did was make up some fresh strawberry custard.  I'm talking real custard made from eggs and milk.  The milk I used was coconut milk which I find works great.
I added more fresh strawberries on the top and a little cream.  My husband was in seventh heaven… 🙂
Have you been able to find a farm nearby you where you can go in and pick your own berries?  If you have, you know the difference between a vine ripened strawberry and one that might have travelled a great distance to your local shop.  I'd be interested to hear your stories… please leave a comment down below.
I hope you've picked up some good information here on reading "Are Strawberries Good for You?"
Warm regards,