Just eat fat and grow slim!  Really?  Hmm… let's see…
There's an exciting discovery from a new study.  Apparently you can easily trigger weight loss of a pound a week without starving yourself or even using lots of will power.  This is done by eating just one tablespoon of a something really nice every day.
The rock-solid science behind this proves it really works.  By daily eating this good fat you can grow slim.  Let me tell you more:
As you know, olive oil is considered a super food because it can help you prevent heart disease; protect against certain types of cancer; avoid strokes, and even ease inflammation and joint pain.
But in this new study they've found that olive oil will also help you lose weight.
xxx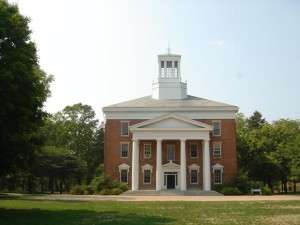 One of America's top-ranked colleges, the prestigious Beloit College in Wisconsin, their Research Department reports that consuming just one tablespoon daily of the right olive oil can help you shed a pound per week. Do you know how much that is? That's 52 pounds in a year!
On visiting Italy, you see for yourself that most Italians are ever so slim and trim compared with most Americans or Australians, even though most Italians love their pasta, bread, wine, biscotti, and Nutella.
xxx
But well you may ask… how can you eat fat and grow slim when it's a high calorie fat?
xxx
Well, new research shows that the right olive oil helps you lose weight in 4 ways:
60% Boost of your metabolism. Your liver and gall bladder are stimulated to produce more bile, which breaks down and burns up other fats as well. Researchers have found that women who had olive oil at breakfast boosted their metabolism by 60% more than women who skipped the oil. They recommend for best results, taking a tablespoon in the morning on an empty stomach. Hmm… if you find that a bit off-putting, find something to drizzle it over, whatever you like.


xxx

Three times faster conversion into energy than other fats. Olive oil, a good fat, has converts itself into energy inside your body 3 times faster than other fats. You'll find that you will burn off your fat intake more quickly and efficiently when you replace other fats (like vegetable oils, margarine and trans-fats) with olive oil.


xxx

Your stored fat is burned up as fuel. Olive oil is rich in a natural compound called oleic acid, and this helps you burn up your stubborn stored fat in two ways. It helps your fat tissues to "close the door" to incoming fat so you stop absorbing so much fat.  Next it helps your body's fat cells secrete your stored fat into the bloodstream so it can be burned off.


xxx

You eat less and are satisfied for longer because your brain signals that you are full. Studies at universities in Germany and Vienna have also shown that olive oil's unique properties trigger a sense of "satiety" and fullness more than other fats. You don't have to battle with the munchies all day long because you feel satisfied. You naturally feel content eating less, so losing weight becomes much easier for you.


xxx

Did you know that even inhaling the aroma of the right type of olive oil straight out of the bottle, can help you feel more satisfied and less hungry… that is, not even consuming any at all!  This is in another very recent study in the American Journal of Nutrition.




xxx
In an article entitled, "The Crazy Way Olive Oil Helps You Lose Weight," Prevention Magazine concludes:

xxx
But you do need to be consuming the right olive oil to receive these weight-loss benefits.
And by "right" I mean independently certified, authentic, 100% pure olive oil, preferably extra virgin, the highest quality.
And these days, that's almost impossible to find!
xxx
Here's why…
xxx
American supermarkets or gourmet stores are buying a substandard "olive oil" which is actually fake. When you consume this you are missing out on all the benefits. Look what these respected media people are telling you… most olive oils in your local supermarket and gourmet store are mislabeled, fraudulent, adulterated, stale, and even rancid.
Doesn't this make you mad?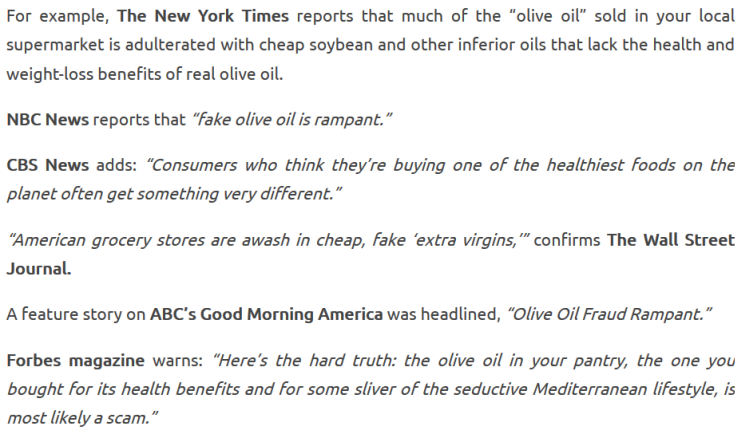 xxx
xxx
Why Is This Happening?
xxx
So much is being currently publicised about the benefits of authentic olive oil and the Mediterranean diet, that sales are soaring worldwide. Hey, think about it… just water it down and make more money!
So what are these unscrupulous foreign producers doing?  They are substituting the real, with counterfeit oils. This is totally bad!
But how does America regulate these shady foreign operators?  They can't.  American supermarkets have now become the dumping grounds for even the famous brands which have been diluted with substandard oils.
xxx
Article:  List Good Fats vs Bad Fats
xxx
What to do?
xxx
Do your research and find the very best oils you can, those that have been independently certified to be 100% pure extra virgin and then look after that precious bottle when you bring it home.
Temperature, time, light and oxygen tend to be the four greatest enemies once you have found the best that you can buy.
xxx
Never buy olive oil in clear glass as its most probably damaged even before you take it home.
xxx
You don't have to store it the fridge as this would be too cold, just put it in a cool dark cupboard that is nowhere near your stove or cooktop.
xxx
Where to buy a good oil?
xxx
Honestly, you should buy from somewhere local… maybe where you can even taste before you buy.  Adulterated oils often come from Italy.  Apparently Australian olive oils are very good.  To be fair to you I'm not providing any amazon links for olive oil as so many of them are not what you think they are.  As I said above, do your own homework.
xxx
Here's a great website to help you know what olive oil should really taste like, and how to keep it from going rancid.
xxx
Olive oil is one of your joint's "best friends".  As it's a powerful anti-inflammatory it prevents pain. Just remember to eat at least one tablespoon of it every day, and for added benefit… eat fat and grow slim!
Warm regards,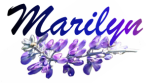 Marilyn Williams
Certified Nutrition & Weight Management Consultant