Do healthy foods avoid aspartame?
Today we're going to have a little chat about how healthy foods avoid aspartame.
We have been conditioned over the years to choose "diet" food off the supermarket shelves, but this conditioning has not helped us.
The general population is getting fatter

"diet" food contains ingredients that do far more harm than what they are replacing.
Not good.
They've taken the sugar out and replaced it with aspartame!
Something that over 20 research studies found that aspartame causes many sicknesses and diseases, including: cancer, heart conditions, birth defects etc.  Within your body, aspartame causes a domino effect of creating one toxin and then another… and these toxins are deadly.
See what this video has to say on the hidden dangers of aspartame:
I made the decision to check the ingredients on every product I buy.  You have to do it carefully and not only take notice of the big printing on the front of the product.  Not everything you buy in packets is bad, but checking all the words printed on it is something we must do if we are working on our health.
You know, if we all made the decision that we wouldn't ever buy "diet" foods or "sugar-free" foods, the manufacturers would change their ways.  Wouldn't that be something else!  The problem is that everyone is so brainwashed that they believe they do the right thing by buying "diet".  It's so sad.
Now don't go thinking it's just aspartame which is the culprit because there's other villains out there too. Just be aware of all the artificial sweeteners: sucralose (Splenda), saccharin etc.
When I became aware that…
all "diet" foods and drinks are chemically processed;

they contain super refined ingredients;

they are full of artificial colours and flavours;

and a heap of table salt to boot
…I decided to walk right on by.   For awhile, I avoided those aisles in the supermarket altogether until it was just so easy… I didn't need them anymore.
Eat wonderful foods
Please be aware that every mouthful counts towards our health and if we are using artificial sweeteners we are working towards knocking our health down.
Why would we want to fill ourselves with all this stuff?  So when I'm choosing a product to buy, I carefully read the label and move to the one that's the closest to natural I can find.
Diet foods are addictive and that's why manufacturers use them.  Why would they do that?  Money of-course!  The bottom line is they want you to come back again and again to buy their wares… they have little care whatsoever whether it's doing you good or not.
If a food is genuinely healthy for you it definitely will not contain aspartame or any other known substance that potentially gives you health problems.  In actual fact, we should not just think "Oh well, what can I do about it?" and continue buying these foods.
I read somewhere 'Don't drink or eat anything with "die" on it'.  I thought it was really good and haven't forgotten it.  It's a good clue to follow.
Foods Containing Aspartame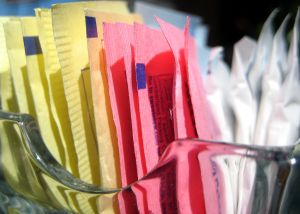 Soft Drinks

Diet Sodas

Gum and Candies

Yogurt

Desserts

Condiments

Meal Replacements
For more specific details on the above list please go here.
Aspartame is widespread and has the potential to poison you in time.
Click here if you would like to know the symptoms of aspartame poisoning
Healthy foods avoid aspartame naturally
Does it mean that all candies, yogurt, desserts, condiments etc contain aspartame?  No. It's handy to know that aspartame containing desserts are advertised as diet, low-sugar or sugar-free.  Just be warned that if they are using High Fructose Corn Syrup you are no better off!
Read the labels on any condiment you may buy,  or make your own.  Other than that, of-course all whole food such as fruit, vegetables, meat etc are naturally free providing you buy organic or grass-fed.
But the answer doesn't live in products loaded with sugar neither
Sugar in general is much apart of the obesity epidemic as anything else.  It not good for you and would be one of the best decisions you could make to go off sugar . You can do it!  Do you know that after not eating sugar for 14 days you no longer crave it, or need it?
Some healthier alternatives are:
raw honey (don't use in hot food – use at room temperature or cold only.)

maple syrup

stevia is a better choice too – although it's quite highly processed.
Sure, healthy foods avoid aspartame as a matter of course and wouldn't consider adding a potential poison to the food.  Duh!  The best healthy food we can eat come straight from nature… fruit, vegetables etc. etc.  What foods have caught you out and fooled you into thinking what you're consuming is building your health?  I bet you have a story or two… why not share with us?
Warm regards,


Marilyn Williams