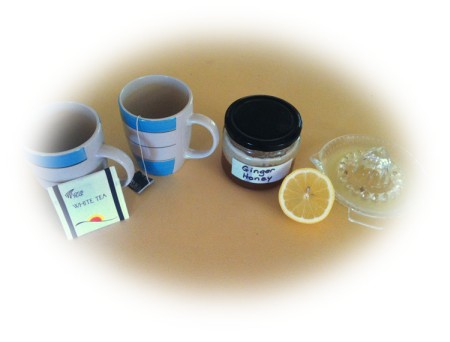 This Lemon Ginger Honey Tea Recipe is easy to make; tastes absolutely delicious and gives you a real boost if you have it first thing each morning.
I make two cups most mornings, one for me and one for my husband.  I gather 2 cups, a lemon, squeezer, tea bag and my Ginger Honey.
If you don't have Ginger Honey on hand, and you most probably don't, it's ok.  If you have a piece of ginger just cut a small bit off the root and add to the cups.  The size to use depends on how "gingery" you like your drink.
It's even better to have Ginger Honey on hand… here is how I make mine.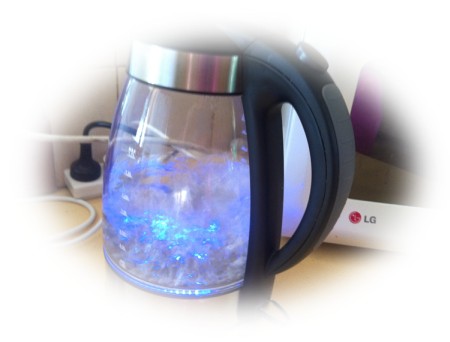 Next put the jug on to boil.  Using filtered water is better than tap water.  Remember, the nicer the water – the nicer the drink… and better for you too.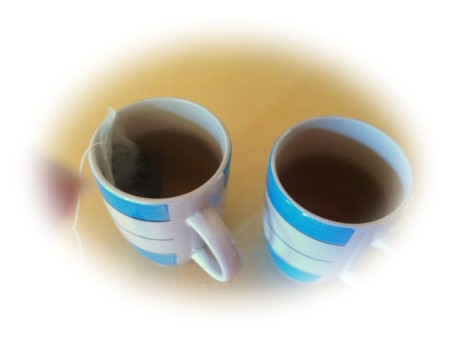 Now it's really good when you make the tea that you use  one that really counts towards your health. Basically all teas are good, but I usually use one of these, between the two cups:
White Tea – organic

Green Tea – organic
Oolong Tea – organic

Rooibus Tea – organic
I have a different one each morning.  These teas are particularly high in anti oxidants and that's what we want.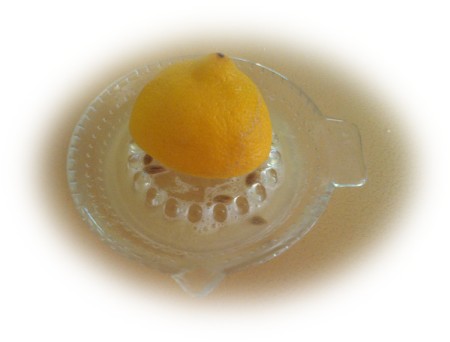 While you wait for the tea to steep, cut the lemon in half and squeeze.  I use 1/2 a lemon per cup.
As lemons vary so much in size, you be the judge.
I've been given a lot of little lemons from a friend, so often I use 1 lemon per cup.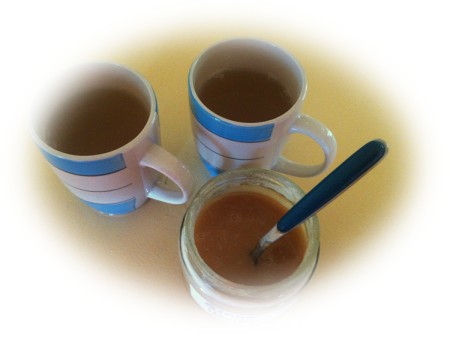 Now for the really yummy bit!  Add just enough Ginger Honey to make the drink taste good to you.  My honey has already got the ginger blended into it but if you haven't got that on hand, simply add whatever honey you have.  In that case, remember the ginger is already in the cup.
Take back to the bedroom where hopefully your husband (if you have one) is sitting up waiting.  If not use "pssst" until he can't stand it and he'll soon rise to the occasion!
Drink and enjoy.
IMPORTANT UPDATE
Today I learned something about honey which has caused me to be more careful in the future.  I have known for a long time that you shouldn't heat honey but for some reason it didn't click in my brain that adding honey to a hot beverage would be the same thing!
There is a chemical change that takes place in honey when it's heated.  This is why it's so important to only buy raw honey.  The shop I buy it from only use a gentle heat to allow them to pour the honey from it's original container into smaller ones.  The temperature they use is no hotter than what the bees use in their hives.
So how can we tell what temperature to use?  It's really quite easy but it will mean any beverage you have containing honey will not be hot when you drink it.
The chemical change happens between 47 C  (116.6 F) and 48 C  (118.4 F).  It's at this point that the enzymes are killed off also.  To keep enzymes alive I use the setting of 45 C (113 F) when using my dehydrator.
Now an easy and foolproof method of working out the temperature is this… if you can put your finger into the liquid and it doesn't burn you, it's 47 F or under.  If when you dip your finger in and have to pull it out again suddenly… the temperature is too high.
Of-course, if you have a thermometer that registers that range of temperatures, you can use that.
FURTHER UPDATE
I now don't bother with making the Ginger Honey.  I prefer to juice the ginger and freeze it in mini ice block trays.  Whenever I have an excess of lemons I do the same.  This means in the morning all I have to do is add 1 lemon and 1 ginger ice block.  As I'm interested in keeping the enzymes alive in both the lemon and ginger, I make sure the water they go into is not too hot.  So… make the tea… add a little cool water… add the ice blocks and then the honey.
So what's so good about this Lemon Ginger Honey Tea Recipe?
Tea – full of anti oxidants.    13 Reasons Tea Is Good for You

Lemons – full of Vitamin C.
Ginger – more effective pain killer than those given by general practitioners! Organic Ginger
I have found the most wonderful site on honey. It contains virtually everything you could ever want to know.   Benefits of Honey
I use raw organic honey that's been unheated for the best benefits.
All four of these powerful ingredients sure make a very powerful brew to start off your day. If you make the Lemon Ginger Honey Tea Recipe be sure to drink it somewhere you can relax and allow those wonderful benefits to seep deep into your being. 🙂