I want to share the difference between plant derived minerals vs metallic minerals. There are some pretty deadly minerals on our planet earth. For example, some can kill you just as quick as using your hands to eat food after touching certain rocks. Therefore, you need to know what you are doing if you are out prospecting.
10 Most Deadly Rocks and Minerals
See this Analysis Sheet…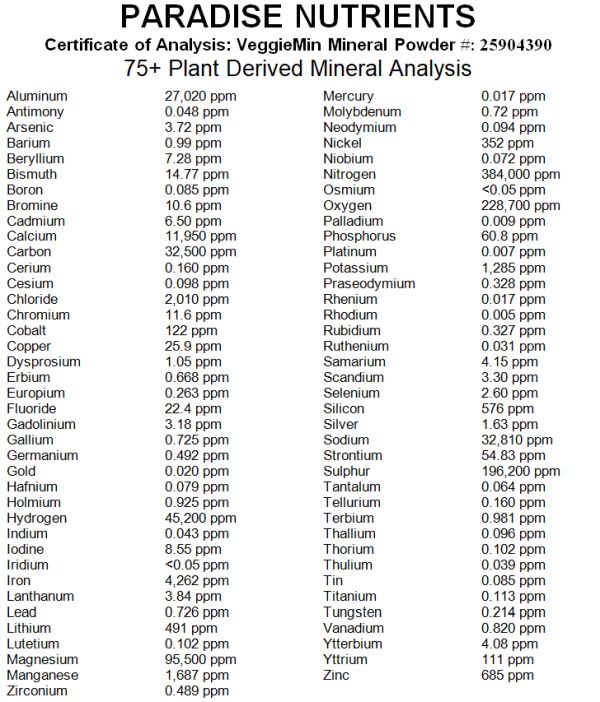 Plant Derived Minerals vs Metallic Minerals
Back to the poisons in our minerals!! In this list you will notice several minerals that are recognisable as toxic to our system:
Aluminium

Arsenic

Lead

Fluoride

Mercury
You don't want to be drinking/eating those!
OK, now take a look at this information below. It was taken from the NSW Government Planning & Environment Resources & Energy website. The page is entitled "About coal and mineral titles". Here I went through and highlighted the same mineral or its metallic name that is found in the chart of colloidal minerals above.
About Coal and Mineral Titles
Schedule 1 Minerals
agate;

antimony;

apatite;

arsenic

; asbestos; barite; bauxite; bentonite (including fuller's earth);

beryllium

minerals;

bismuth

;

borates; cadmium;

caesium; calcite; chalcedony; chert;

chlorite;

chromite

; clay/shale; coal;

cobalt

;

copper;

corundum; cryolite; diamond; diatomite; dimension stone; dolomite; emerald; emery; feldspathic materials;

fluorite;

galena; garnet; geothermal energy; germanium;

gold;

graphite; gypsum; halite (including solar salt); ilmenite;

indium;

iron

minerals; jade; kaolin; lead; leucoxene; limestone;

lithium;

magnesite;

magnesium

salts;

manganese;

marble; marine aggregate;

mercury;

mica; mineral pigments;

molybdenite;

monazite; nephrite;

nickel;

niobium;

oil shale; olivine; opal; ores of silicon; peat; perlite;

phosphates;

platinum group minerals;

platinum

;

potassium

minerals;

potassium

salts; pyrophyllite; quartz crystal; quartzite; rare earth minerals; reef quartz;

rhodonite;

rubidium; ruby; rutile; sapphire;

scandium

and its ores;

selenium;

serpentine; sillimanite-group minerals;

silver;

sodium

salts; staurolite;

strontium

minerals; structural clay;

sulphur;

talc;

tantalum;

thorium; tin;

topaz; tourmaline;

tungsten

and its ores; turquoise; uranium;

vanadium;

vermiculite; wollastonite; zeolites;

zinc;

zircon;

zirconia

Schedule 2

Groups of minerals

Group 1 (Metallic minerals)

antimony; arsenic; bismuth; cadmium;

caesium;

chromite; cobalt; copper;

galena;

germanium;

gold;

indium; iron minerals; lead; lithium; manganese; mercury; molybdenite; nickel;

niobium;

platinum group minerals;

platinum;

rare earth minerals;

rubidium; scandium

and its ores;

selenium; silver; sulphur;

tantalum; tin; tungsten

and its ores;

vanadium; zinc;

zirconia
Do you remember the lesson?
Now, remember my little lesson above about how metallic minerals are changed by the plants to become water soluble minerals? These are the minerals that both animals and humans can safely eat, in fact, we must eat if we want to be healthy. It's exactly the same for the following minerals as well.
Let's continue with the lesson…
Metallic Aluminium vs Water Soluble Aluminium
It is the second most abundant mineral on the earth, second only to silica. Aluminium is in virtually every food we eat!
Let's take some common foods like broccoli, grapes, almonds, apples, carrots, tomatoes:
5 contain significant amounts of aluminium!

Celery has over 190,000 ppb per 100 grams

Nutmeg has over 113,000 ppb in 100 grams

2 contain arsenic!

5 contain strontium!
How could this possibly be?
It's because they are no longer poisonous, but in contrast, are all very healthy in their water soluble form.
Please note that this is NOT the metallic kind of aluminium that is contained in many deodorants; used for cooking pots and pans or contained in aluminium foil. Please avoid this kind of aluminium as it is very bad for your health.
Do you know that one glass of skimmed milk contains more aluminium than one week's supply of the Paradise Nutrients' minerals?
Metallic Arsenic vs Water Soluble Arsenic
Found in edible plants such as mushrooms…

Gives us healthy cartilage and fingernails amongst other functions in our body
So, metallic arsenic will kill you dead, but plant derived arsenic is needed within your body!
Do you also know that most people, even medical practitioners, do not understand this principle? Consequently, they are not aware of the difference between the two types of minerals. If you didn't know it before, you're learning it right now!
According to food chemistry, plant derived minerals are 98% to 100% absorbed by the body.
In brief, just to make sure you are clear… you cannot just eat dirt containing iron ore, iron filings or rust flakes and expect to absorb them into your system. But when you eat plants that have grown on top of iron ore, or soil containing iron filings or rust flakes, that's entirely different. You will also receive the iron if you consume animals who have eaten those same plants. Your body can readily extract the iron your body needs for health. Similarly, it is the same for all minerals, whether it's aluminium, iron, arsenic, mercury, lead, fluoride, calcium etc. etc.
All the foods on this list contain colloidal arsenic. You've been eating it every day!
Almonds

Apples

Apricots

Asparagus

Avocados

Bananas

Beans

Black Pepper and most spices

Broccoli

Brussels Sprouts

Carrots

Celery (over 190,000 PPB of Aluminium in Celery –approx 100 gram)

Cheese

Chilli powder

Cinnamon Powder

Cocoa

Coffee

Corn, (lots in corn)

Cucumbers

Egg Plant

Figs

Grapes

Leaf crops

Lettuce

Melons

Mint

Nutmeg (over 113,000 PPB of Aluminium in approx 100 gram)

Palm Oil

Peanuts

Peas

Peppers

Pineapple

Potatoes

Pumpkin

Root Crops

Seafood

Small Grains

Soybeans

Squash

Tomatoes

Wheat (lots in wheat)

and the list keeps on going…
Metallic Mercury vs Water Soluble Mercury
Who'd have thought that the mercury mentioned in the above list is not harmful at all, but in fact is required by your body for health. Whenever mercury may be listed as an ingredient of fresh food produce or meat, you have nothing to worry about.

You've heard though that we should be wary of the mercury found in fish, which is talking about metallic mercury, not water soluble mercury. Do you see the difference?
The bigger the fish, the faster it swims, the more wary we should be, in fact, I wouldn't consume any large fish. For example shark meat which is commonly called flake, because they are the top of the food chain. Each fish in turn eats other fish smaller than themselves so the mercury builds up the larger the fish is.
Have you ever wondered if you are receiving the correct amount of minerals in your diet?
Why not go to the Mineral Deficiency Symptom List and check your symptoms against the conditions shown over there.
Are you taking a mineral supplement? If so, you need to take a good look at the bottle to see if your supplement contains just a few minerals or whether it contains the whole spectrum of minerals as found in plants. Moreover, there's a good chance if you bought your mineral supplement from the supermarket, the local chemist, pharmacy or even from a health shop, that you are not consuming the right kind. For the most part, I'm sorry to tell you, they won't be doing you much good.
Learn more here: Plant Derived Minerals are Absolutely Essential for Health
Now that you know about plant derived minerals vs metallic minerals, if you are desiring to supplement your diet with a large variety of these minerals, you couldn't do better than those provided by Paradise Nutrients. As a Nutritional Counsellor, they come with my highest recommendation. There is such a variety too, so they suit everyone, one way and another!