The nutritional value of beet pulp should never be overlooked!  This blog is talking about taking simple steps to a healthier life and to this end I'm going to show you how to simply use a "left-over" and create something extremely beneficial. 
Another powerful use of beets
In another post I described how I made a very powerful home-made Blood Tonic. This can be added to your arsenal of weaponry against disease as there are marvellous health benefits in raw beets.
Originally I saw both the Blood Tonic and the making of this Beet Powder from Tony Pantalleresco.  I've adapted it to the way I feel is the easiest way to make it.

After you have made the Blood Tonic you are left with what appears to be waste product from the beets.  But… slow down a minute… don't throw it out… don't even put it in your compost bin!  You can add the nutritional value of beet pulp to your meals!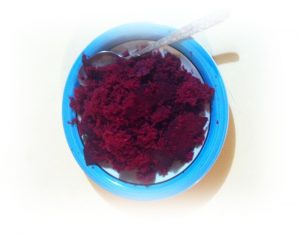 Let me explain how we can use this lovely left-over and create something very useful and health building.
Online I see that beet pulp is given mainly to horses, pigs, cattle, goats or whatever, but they are talking about commercial beet pulp made into little pellets rather than just a little left over from a juicing session.
My motto is not to waste anything that can be used… firstly for myself and my family, secondly for my birds and thirdly for my garden.
You see, when you juice,  the left-over pulp still contains lots of vitamins and minerals, let alone all the fibre.  We are always looking for ways to add extra fibre to our diets and this is one perfect way.
Let me show you how you can utilize that small amount of "left-over" so you can receive all the further benefits from it, building your health and helping you to  "go"!
Dry the Pulp
In my case, I use a dehydrator
, but if you don't have one you can always use your oven on a very low temperature. My instructions will be for the dehydrator which I can only recommend highly to you if you don't have one.  There are so many delights you can create and make with this handy addition to the kitchen.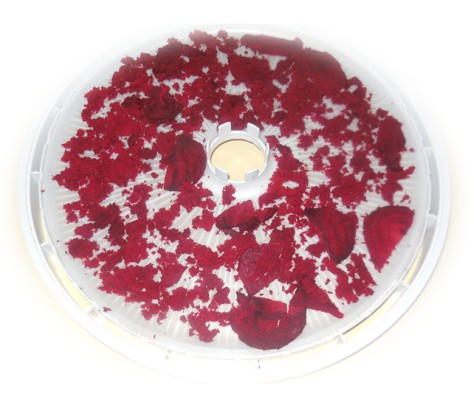 First up of-course you peel and juice the beetroot… it's the next step we are interested in.  Here I have spread the pulp on my dehydrator tray.  You can see pieces went through and were still quite large.  That's ok… spread it all out to cover the whole tray.
My dehydrator has 5 trays but it can take up to 30 trays.  I'm not sure what I'd find to fill 30 trays at once, but the dehydrator can handle that many.  If I have anything else I want to dehydrate on the other 4 trays I will also set them up.  If not, I just run it with the one tray in place.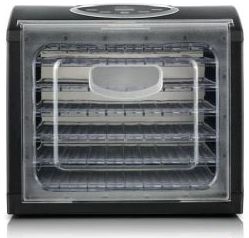 (Update: Unfortunately my dehydrator shorted out so my son bought me another brand called Sunbeam. I'm extremely happy with as you can remove the trays and create a much bigger space than my old  one.)
Keeping the Enzymes alive
I usually set the temperature for around 46° C/114° F.  I choose this temperature so that it's hot enough to destroy any bacteria or molds that may be on the fruit/vegetable, but low enough to keep the enzymes alive.
As I like my food to be living and not devoid of enzymes every chance I get and this keeps the enzymes alive in the raw food.  Enzymes are really important to our digestion and means we don't have the same need to produce enzymes in our body because we are using the live enzymes in the food.  At about 48° C/118° F the enzymes are prevented from performing the function they were created for.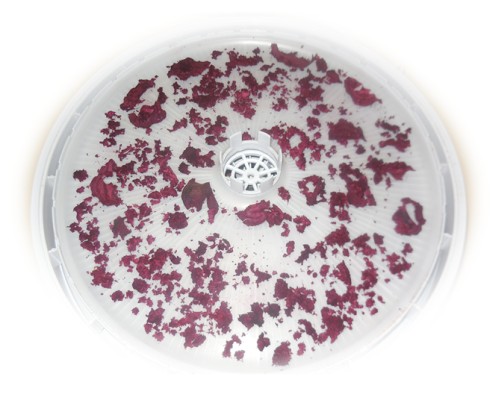 You leave it in the  dehydrator
  until the clumps have reduced in size and feel quite dry. The time will vary I'm sure between hydrators.  I usually keep checking it and feeling a few pieces in my fingers.
Pulverize the Dry Powder
Next you need to tip it into a blender.  In my case I used my Thermomix.  Whizz it for as long as it takes to make a fine powder.  You can use a coffee grinder if you like which works quite well.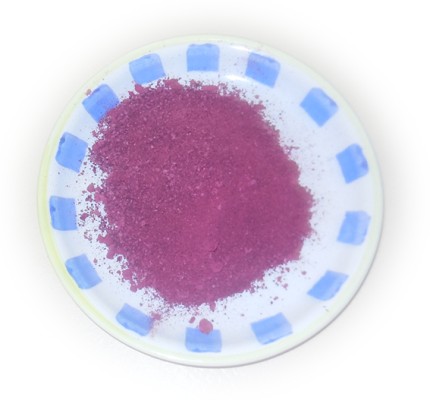 Now it is poured out onto a saucer. It could have been finer but it's cool as it is.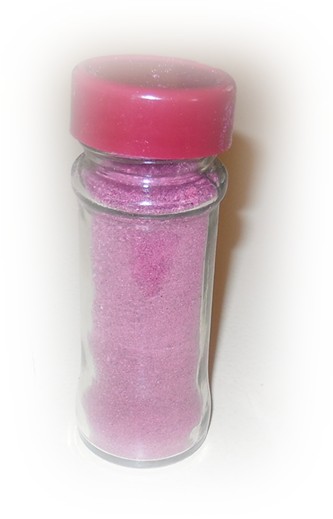 I spoon it into a little bottle.  An old spice jar works well – they often contain little shakers inside the lid.  Now all you have to do is leave it on your table so it gets used over breakfasts, lunches and dinners.
I make other condiments out of carrots too.  I'm sure there are many other veges that would suit also.
Creating yummy looking, healthy meals
Well, this is where the fun begins!
Add it to anything you like.  The rich red colour looks great sprinkled over a dish.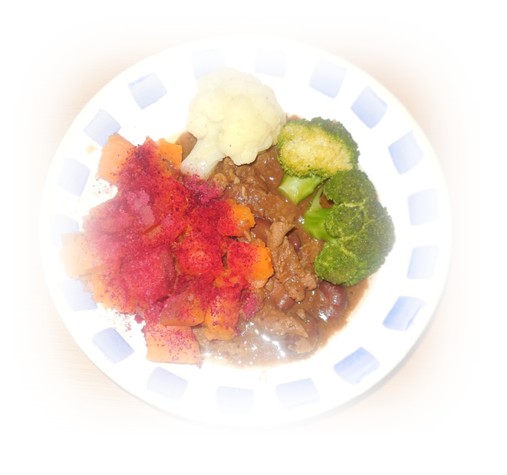 Or what about breakfast?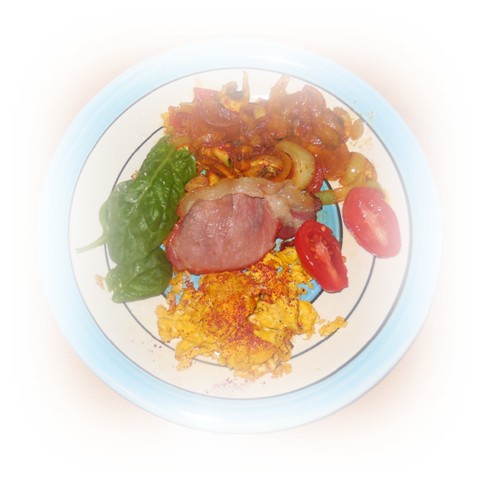 As I've cooked it at a low enough temperature to keep the enzymes alive we are still receiving the health benefits of raw beets including vitamins, minerals, enzymes and a whole lot of fibre.  Hey, and it looks great don't you agree?
There are such a lot of good reasons to consume beets including the lovely green and red beet tops.  Whatever you do, when you buy beets try to get them with the greens still attached as it is one of the healthiest parts of the beets. 
Between the greens and the root, there have been wonderful reports of it helping dementia, blood pressure, boosting stamina and even cancer prevention.  It fights inflammation and helps in detoxing you too.  In olden days it was even used as an aphrodisiac.  I guess if it really worked then it would still work today!
It is outside the scope of this website to advise beets for the use of any of these things above, but all I know is that many times I've seen beets added on the list of Superfoods.  This to me suggests that you could do a lot worse than make sure it's part of your diet because its bound to do you some good!
Beet Kvass
I'm very interested in making the fermented beverage called Beet Kvass.  This is a Blood Tonic and Liver Cleanser.  Sounds good to me as I really like to experiment with cultures and fermentation's.  I've found a recipe on Divine Health, from the Inside Out, which I'll be trying soon.
So this is just one more simple step to a healthier life you can take.  I love the look of it on my plate… the colour really calls to me.  I've never had a complaint from the family.  Actually, I can remember a guy, a friend of my son, remarking one evening when he came for dinner, that he loved the way I made the meals look so inviting.  That night I had made a stir-fry and added a little beet powder and mixed it through a little.  It was wonderful.
As you can see it's not hard to add the nutritional value of beets to your daily life.  Here I have shown you how to make homemade beets condiments, but as I say, I believe there would be a lot of other veges you could use to add further benefits of fiber to your diet.  Just another simple step to taking your life from ordinary to extraordinary, with very little cost at all.  That's gotta be good!
Let me know what wonderful ideas you come up with as I'd love to know.